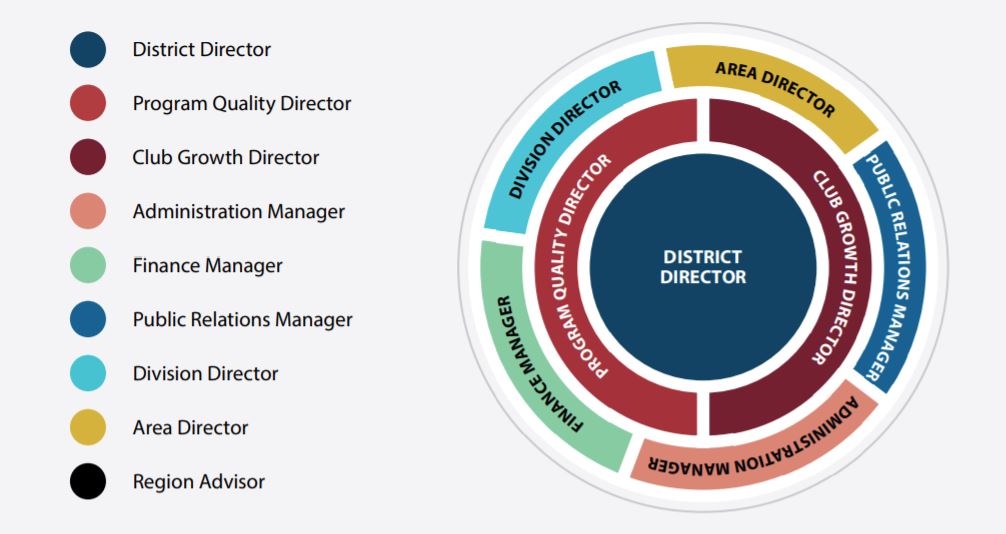 The diagram on the left shows the principal parts of a District's leadership structure. It is reproduced from the
District Leadership Handbook
, page 13. The various "Field Officer" teams come under a member of the leadership team at either District or Division level.
There are 14 Divisions in New Zealand, named by letter. Divisions C, D, E, F, G and J form District 72; Divisions K, L , M, N, O, P, Q and R form District 112. Each Division is served by a Division Director, who is elected every May at the District Annual Business Meeting.
Each Division is comprised of several areas; these areas are named by Division letter and number, e.g. B1 or K3. An Area Director serves each Area. Areas have from 3 to 6 Clubs. There are approximately 290 active Clubs in New Zealand.
Area Directors are elected by their Area Councils before the May Business meeting. Area Directors not elected before the May Business meeting may be appointed by the incoming District Director.
The District is served by seven District Officers, who together form the District Executive.
The District Director, Program Quality Director and the Club Growth Director are elected every May at the District Annual Business Meeting. The Immediate Past District Director is an automatic position. The remaining three Executive Positions are appointed, these are the Finance Manager, Administration Manager and Public Relations Manager.
The District Administration Committee consists of the District Executive and the Division Directors.
Field Officers are appointed to assist with specific aspects of running the District effectively. They are:
District Parliamentarian
Logistics Manager
Conference Consultant
Conference Chairperson
District Webmaster
District Zoom Master
District Directory Officer
District Historian
Training Coordinator
District Statistical Analyst
District FreeToastHost Support