Toastmasters do a great range of atctivites outside of club meetings, and this page is a summary of those activities, with links to other pages as needed.
If you are involved in something you believe belongs here, please send details to our Webmaster.
---
District 112 – Guinness World record holders
In April 2019, a team of Toastmasters set out to break the Guinness World Record for continuous public speaking. The rules were simple:
Keep speaking day and night until we break the previous record (and then some!)
Each speech exceeds five minutes
No pause longer than 30 seconds
You may not speak again for four hours
There must be an audience of ten at all times
In September, we celebrated the breaking of that record. Here's an image of the certificate to prove it!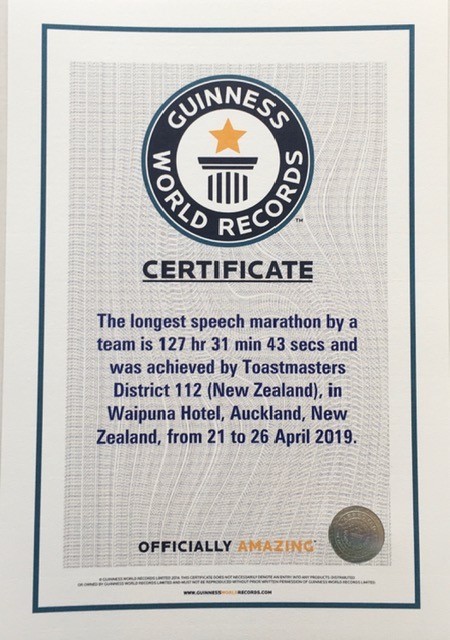 What did we do? Click here to find out, or here to see who was involved, or here for pictures from what became "Run The Red".
---
TEDx – One Way Toastmasters Can Help
"You can't tell by looking that I'm…."
In this fascinating talk titled "How to be normal (and why not to be)", Jolene Stockman takes us into the world of "Tangata Takiwatanga" (autistic people) and shows how Toastmasters has helped her decide what "normal" means for her. Jolene was "diagnosed" with autism as an adult after years of trying to "fit in"; her description of that process makes this an inspiring lesson for us all.
WATCH JOLENE'S TALK ON YOUTUBE
---
Radio With Toastmasters
Sometimes we receive requests to provide members to work with other organisations. In a recent example, Radio Rhema asked us to participate in an interview on the art of conversation and in particular the importance of "small talk". The focus was on conversation, given this was recorded at the start of the "party season" in offices and around barbecues.
District 112 Directories Officer Mike Diggins volunteered to take part in the interview
LISTEN TO THE RADIO RHEMA INTERVIEW